Zoom tips for synchronous remote communication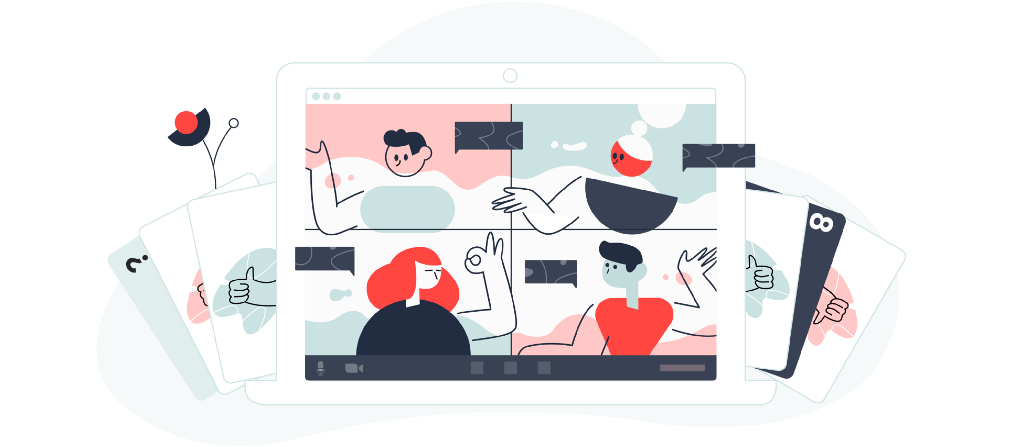 From the very first day after switching from a distributed to a fully remote working model, we saw team communication as one of our main challenges. When it came to remote meetings, Zoom was already our tool of choice; therefore, it was a no brainer to keep it, moving forward. Nevertheless, we quickly noticed that some of our past processes were inefficient when attempted remotely.
After brainstorming and experimenting, we came up with creative solutions to some of our most common problems. We want to showcase the most solid ones here, in hopes they may help your team enhance your daily workflows.
Yes or No voting cards
Here at Overflow, it is not uncommon to have synchronous meetings of 10 or more people. While it's easy to count hands in a room to get the vibe on a subject, counting hands in Zoom is a hassle. Our workaround for this is to use Yes or No colored cards, which attendees can apply as their virtual backgrounds.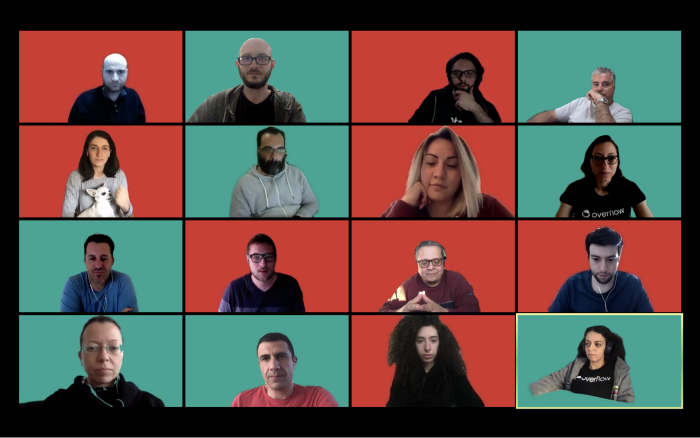 It's pretty simple: once the presenter (or anyone else) addresses all attendees with a Yes or No type of question, each member of the team submits their answer by picking the right virtual background. Counting takes just a few seconds and sometimes is not even necessary as the result is visually apparent.
Download our ready-made set of Yes or No cards for your meetings.
Planning poker for scrum teams
As commonly practiced in many tech companies worldwide, the Overflow team attends sprint planning meetings to kick off each sprint. The aim is to define deliverables and goals, estimate feasible deadlines and discuss the best ways to approach major tasks. When it comes to our product development team, we often use the Planning Poker method to estimate story points for each of the stories we are aiming to work on. In a physical office environment, we simply use a deck of cards. However, during a remote meeting, not everyone has access to cards, so the whole process becomes more far-fetched.
Our workaround summons, once again, Zoom virtual backgrounds. Each team member downloads a set of numbered backgrounds (e.g. Fibonacci sequence) and everyone votes simultaneously. High-numbered cards have darker backgrounds, while lower-numbered cards are lighter. Each person changes their background according to their story point estimate and in a glance, you can see if the team reached a consensus. By changing backgrounds all at the same time, team members ensure that their estimate is not influenced by others. If the team is unable to reach a consensus, each participant has to justify their estimate before all team members run another round of Planning Poker, until everyone reaches a final agreement.
Download our ready-made set of Planning Poker cards for your meetings.
Make sprint retrospectives more engaging
Let's face it: it's hard as it is to be sitting in front of a screen all day, joining one meeting after another, while still maintaining the right level of engagement. Sprint retrospectives usually take place on the last day of each sprint, when most team members are tired and look forward to some time away from conference calls.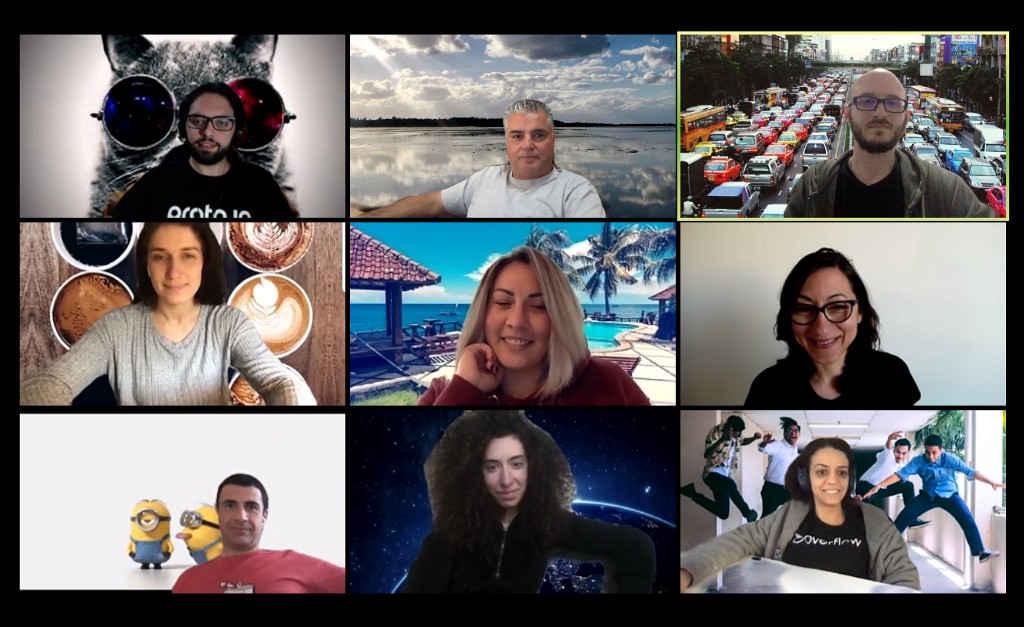 A good retrospective check-in exercise we saw bring joy to the Overflow team is when each team member picks one single image that reflects their feelings about the latest sprint. Each one then applies their image of choice as their virtual background and has a few minutes to explain what their selection symbolizes. This is a great way to get the team all warmed up and receive feedback on how the sprint went, before moving on to other topics on the agenda.
Did you try any of the above? How did it work out for you? Feel free to tag @overflowapp on Twitter, Instagram or Facebook and let us know!