5 tips to get faster client design sign-off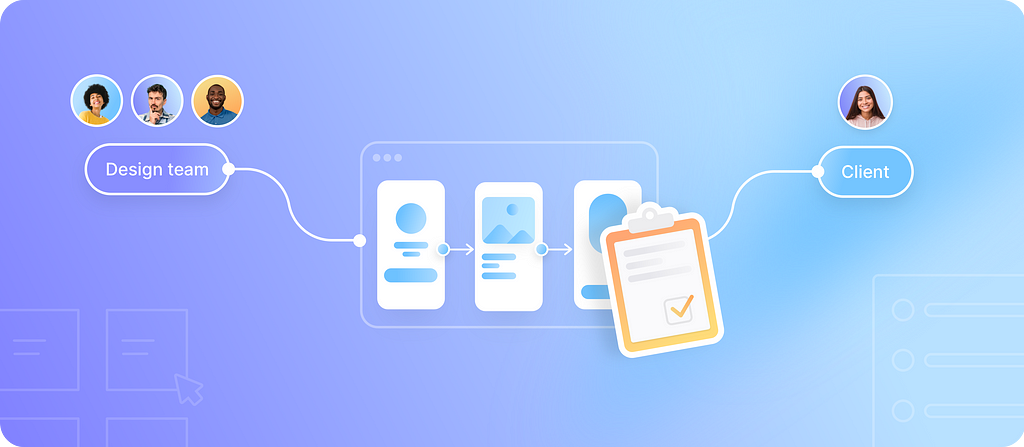 Design sign-off is one of the most critical stages of any client-commissioned project, as it signifies the client's approval of the design team's work and gives the green light for the project to move forward. However, achieving design sign-off is not always a straightforward process; designers often encounter a range of challenges, including differing opinions, miscommunications, and last-minute changes.
In this article, we will highlight five actionable tips that can help design teams overcome some of the most common client challenges and streamline the design sign-off process.
1. Present with user flows
Every client review depends on some sort of presentation on behalf of the design team. And while there are many ways to present design work, not all are equally effective to get the audience engaged.
Our recommendation is to include user flows in client presentations where applicable. They are a great way to showcase design screens for apps, websites, and other digital experiences, as they are highly visual and easily digestible for any audience, regardless of design or technical background.
In the above user flow diagram of an online retail app, users start from a welcome screen with the aim to purchase products of their liking. The flow showcases all the possible paths a user can follow in order to reach this desired outcome. By following the connections between UI elements, such as buttons or menus, and the app's screens, clients can understand the complexity of the user experience and identify potential pain points. That makes it easier for them to provide actionable and constructive feedback, as well as reach final project sign-off.
2. Guide audience focus
Client reviews are oftentimes unpredictable: they can end up pretty straightforward or they can become a nightmare. To an extent, the outcome highly depends on the designer's presentation skills and their ability to command audience attention.
Once again user flows can come to the rescue, allowing designers to present like maestros. They provide the client with a more holistic view of the project's scope and the design effort, while still allowing to focus on individual screens when needed. Ideally, designers should kick off design meetings with a project overview providing context as to what is the role and position of each individual screen within the user journey. Focus should then be directed to specific sub-flows, so that functionality can be evaluated in more detail. Lastly, individual screens can be inspected; however, it's recommended that this step is done throughout earlier iteration cycles, so that final sign-off can proceed smoothly.
3. Agree on one decision-maker
Any piece of feedback, no matter whom it's coming from or how major or minor it is, contains a certain amount of subjectivity. The inclusion of multiple decision-makers basically implies that the personal taste of more than one individual is going to come into play during design sign-off. Unless these individuals have pretty similar tastes, the goal is extremely ambitious.
It's crucial that a sole decision maker is picked during the early stages of alignment between the product design team and the client. If more people want to be involved on the client's side they can do so at their own time and come to meetings aligned, in order to avoid last-minute clashes.
4. Adapt to your audience
Although it's understandable that each design team has its own preferred processes and workflows, unfortunately not every client likes to do business the same way. In order to reach sign-off faster, it's important to adapt to the client's needs, rather than dictate your team's preferences.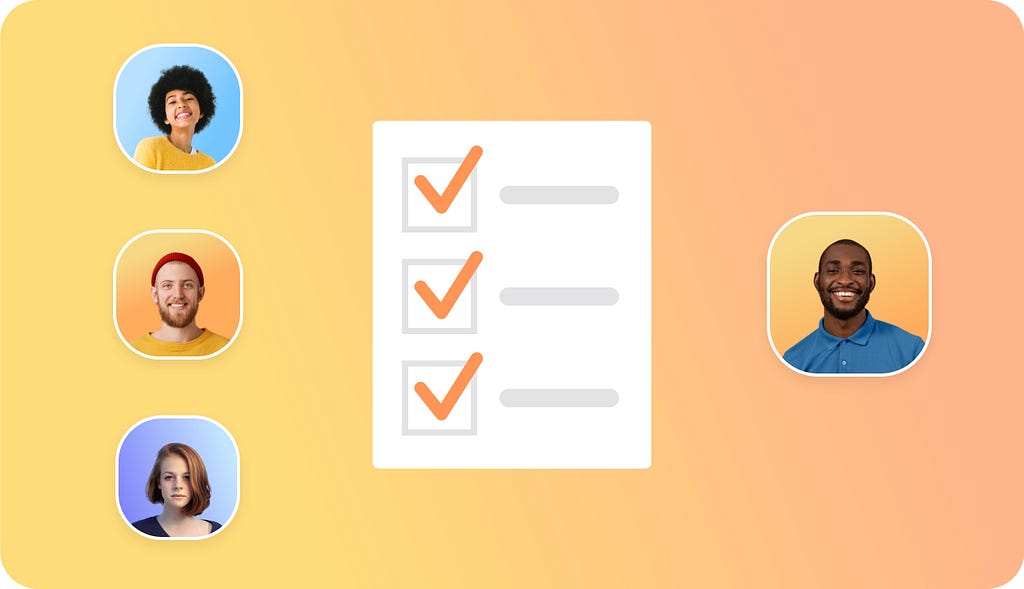 Try to carve a plan of action with the client early on by answering the following questions:
What will be our day-to-day communication channel?
How should we present design work to you?
How often should we conduct design reviews?
Who is the main contact person on our end?
Who is the main contact person on your end?
While the project is underway you might realize that the workflow you agreed on is not ideal for moving things forward. In such cases, it's always advisable to be transparent with the client and reach a new agreement together, rather than try to change things subtly on your own.
5. Try asynchronous critique
If you and your client are curious but hesitant to switch to a more asynchronous collaboration model, it's advisable to get out of the comfort zone and give it a go. Asynchronous processes have many benefits, as they don't require much scheduling and are not restricted by time zone differences, thus speeding up the progress towards final sign-off.
Asynchronous practices do, however, often require a change of mindset, especially in teams with long-standing processes. One thing everyone involved needs to start getting used to is the increased use of written communication. Additionally, design critique will most likely take place inside a specialized user flow diagramming tool or prototyping software, where the client can see the design in context and experience the user journey without much guidance from a live presenter.
How do you manage the working relationship with your clients? Do you have any tips to share on how to reach design sign-off faster? Let us know by dropping us a message on Twitter, Facebook, or Instagram!
Article written and curated by Constantinos Vitoratos.